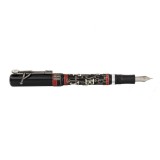 Visconti Qwerty Fountain pen
Stock:

12 - 14 business days

Brand: Visconti
Model:

Vulpen / Fountain pen
The Visconti Qwerty limited edition collection is inspired by the alphanumeric keyboard patented by Christopher Sholes. With this pen Visconti wants to pay homage to a timeless system, born with typewriters, but still present today in everyday life.
The first version of the keyboard patented by Christopher Sholes and associates in 1864 provided for the letters arranged in alphabetical order. When, in 1873, Sholes and his associates signed a contract with Remington for the construction of the first typewriter, the layout of the keys was completely different and took the name of Qwerty from the sequence of the first six letters on the top line. There are several theories on the reason for this change, but the most accredited sees as protagonists the telegraphers, interpreters of messages in Morse code, who helped to reformulate the keyboard in the most functional way.
The dedicated box has been designed as a real display object. The design is inspired by early Remington typewriters, where the top, complete with an aged silver hinged opening, holds two glass ink bottles, one red and one black. The lower section, where the writing instrument is stored, has a magnetic closure that reveals the pen and is enriched with aged silver and ivory enameled keys that make up the word Qwerty. The front features an aged silver plaque with the Visconti logo surrounded by typewriter hammers.
The pen is equipped with Visconti's 18kt gold nib and finished in ruthenium. It uses the well-known double reservoir power filler.
All the hardware is in silver with aged silver treatment. The ring is engraved in Visconti's own workshops and subsequently enameled, while the clip, equipped with a pressure mechanism, is enriched with a detail that recalls the keys of traditional typewriters.
This pen is available in a limited edition of 388 pieces.
Click here for Visconti ink bottles.
The collection can be personalized using the well-known Visconti patented My Pen System with the instant application of the initials, the zodiac sign or the semi-precious stone preferred by the fortunate future owner of a Visconti pen. The My Pen System applications can be found in our webstore.
The name Visconti has been for the past twenty years a synonym for writing instruments of extraordinary beauty, historically and technologically studied. The fountain pens, rollerballs and ballpoint pens by Visconti make up a wide range of high quality instruments with a strong identification.
Features
Brand
Visconti
Writing system
Fountain pen
Nib width
Extra Fine, Fine, Medium, Broad, Stub
Nib content
18kt Gold
Filling system
Power Filler
Color
Black
Trim color
Black
Total Reviews (0)
click here write review to add review for this product.