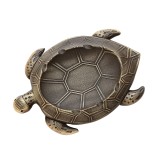 Esterbrook Patience the Tortoise Pen Holder
Patience the Tortoise is a new addition to Esterbrook's desk accessories collection. It is a desk buddy, friend, and confidant. Oh, and most importantly, a pen rest!
The antique brass tortoise sits elegantly on your desk, holding any of your prized pens where you can easily admire them. It also serves as a reminder that if we are methodical and steady, we will emerge triumphant and that having a little fortitude can make all the difference. The perfect gift and sentiment for yourself or someone else.
Patience will hold three pens and has a shell caddy for ink cartridges, paperclips, whatever you wish. All of this and a virtue to boot. Who could ask for more?
"It doesn't matter how slow you go as long as you don't stop." - Confucius
Estie, a kind of nick name for Esterbrook, is a tribute to the brand and its storied history. Short for Esterbrook, ͞Estie͟ also provides a feeling of 1930s nostalgia, when phrases like dingy, dizzy, doggy and brodie were commonplace. A time when fountain pens were an integral part of life and communication for most Americans.
Esterbook began manufacturing nibs in the US in the mid 1800s, but the 1930s were a period of importance, as they introduced their first interchangeable nib system in 1933. The interchangeable nibs gave the user many options for writing, whether in school, business, personal etc. Today, a similar system is reborn with the Estie and the specially engineered MV Nib Adaptor. The MV adaptor delivers a vintage nib experience with a modern shape Esterbrook pen.
Times may be different, values stay. The Esterbrook Pen Company, a true American Original since 1858, is rewriting its long success story in modern times with a fresh new pen collection based on a complete rebranding. Join the revolution!
Features
Brand
Esterbrook
Writing system
Pen holder
Material
Brass
Color
Gold
Total Reviews (0)
click here write review to add review for this product.