Hot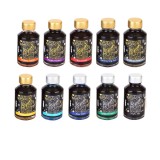 Diamine Shimmering Ink - Ink Bottle (40 colors)
3 or more EUR €9.01
5 or more EUR €8.55
10 or more EUR €8.06
Stock:

In Stock

Brand: Diamine
Model:

Inkt / Ink
The Diamine Shimmering ink is a collection of 32 shimmering inks each containing metallic particles that will make your writing shine. The ink is bottled in glass ink bottles of 50ml. The Diamine Shimmering inks are the culmination of several years of tinkering by the ink experts at Diamine and as such are perfectly safe to leave in any fountain pen.
The ink colors are:
Night Sky: Black with silver shimmer
Blue Pearl: Blue with silver shimmer
Purple Pazzazz: Purple with golden shimmer
Magical Forest: Green with silver shimmer
Blue Lightning: Light Blue with silver shimmer
Red Lustre: Red with golden shimmer
Shimmering Seas: Blue with golden shimmer
Brandy Dazzle: Brown with golden shimmer
Golden Sands: Yellow with golden shimmer
Sparkling Shadows: Grey with golden shimmer

Enchanted Ocean: Groen with silver shimmer

Blue Flame: Blue 

with golden shimmer

Tropical Glow: Green 

with silver shimmer

Golden Oasis: Green 

with golden shimmer

Fire Storm Red: Red 

with silver shimmer

Inferno Orange: Orange 

with golden shimmer

Magenta Flash: Purple 

with silver shimmer

Pink Glitz: Pink 

with golden shimmer

Lilac Satin: Purple 

with silver shimmer

Moon Dust: Grey 

with silver shimmer

Caramel Sparkle: Light Brown 

with golden shimmer

Cocao Shimmer: Brown 

with golden shimmer
Diamine ink is a water-based ink perfect for any brand of fountain pen. It is completely non-toxic and offers probably the widest range of quality fountain pen ink colors in the world - in both traditional and contemporary shades.
The Diamine Ink Co have been ink manufacturers since 1864 and have upheld their reputation for producing the finest quality of fountain pen inks.
Features
Brand
Diamine
Ink Color
Blue,Black,Yellow,Brown,Purple,Orange,Green,Grey,Turquoise,Red
Total Reviews (13)
click here write review to add review for this product.