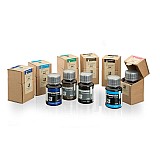 Rohrer & Klingner Dokumentus Ink - Ink Bottle (6 colors)
Ex Tax: USD $17.16
3 or more USD $16.30
5 or more USD $15.44
10 or more USD $14.59
Rohrer & Klingner Dokumentus ink is the world's first waterproof fountain pen ink confirming to the resistance requirements of DIN ISO 12757-2.
It has been tested by the Paper Technology Foundation in Heidenau, Germany, an independent standards body, which has certified that this ink can be used by registrars for official documents.
New technology and high-quality raw materials used to formulate this new pH-adjusted ink guarantees permanent and archival writing. Comfort of writing with a fountain pen was the main focus of this product development.
Please, do make sure to place the cap on your fountain pen after use to prevent blockages in the nib. Beyond this, no special care is needed.
The Rohrer & Klingner ink comes in glass ink bottles of 50ml.
The German based Rohrer & Klingner was founded in 1907 by Johann Adolf Rohrer junior and his partner Felix Arthur Klingner. Nowadays, already the fifth generation of employees maintains the firm's long tradition of manufacturing ink. Following well established recipes, their products are made by hand, combining primarily natural binding materials with the respective colorants.
Features
Brand
Rohrer & Klingner
Ink Color
Blue,Black,Pink,Brown,Green,Turquoise
Total Reviews (2)
click here write review to add review for this product.